Continuing the Green Revolution One Part at a Time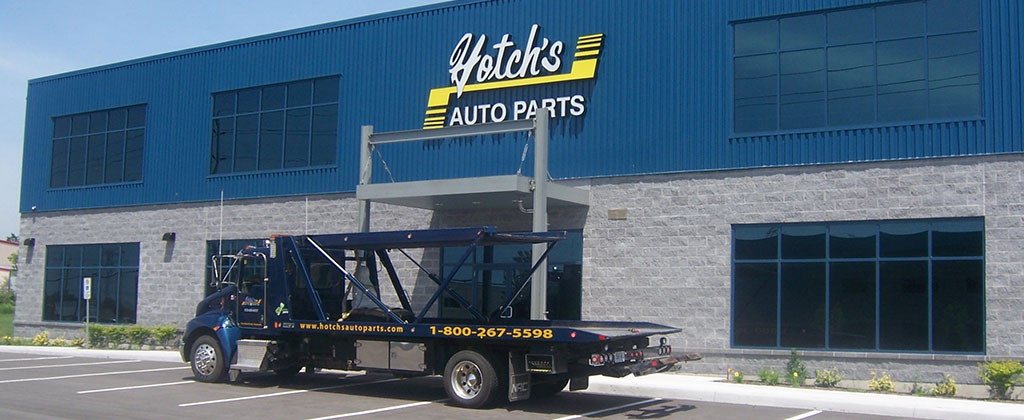 Hotch's Auto Parts opened a brand new 10,000 sq/ft warehouse conveniently located just off Highway 401 in Bowmanville, Ontario. The brand new warehouse acts as a distribution centre and pick-up location for customers within the GTA. "Our new facility gives us the ability to supply our customers with next day service across most of Southern Ontario using our own delivery trucks," said owner Hotch Earl. "In addition, this will prevent the frustrations caused by lost or damaged parts when using third party courier companies."
All automotive dismantling and processing continues to take place at Hotch's Auto Parts main office and warehouse located just south of Belleville, Ontario. The location of the new facility was hand chosen for its proximity to the Toronto market as well as its ability to add more timely service to customers north of Hwy 7. After looking at a number of sites the decision was made to purchase a 3 acre piece of land located just minutes from the Hwy 401 and Hwy 115/35 intersection. This will allow the new warehouse to act as a main western hub for Hotch's Auto Parts and will expand next day delivery coverage to over 15,000km2.
With the new building came the need for an expanded fleet, so Hotch's Auto Parts scaled up their line of delivery vehicles with the purchase of a new Kenworth T370 3 car carrier. This truck is outfitted not only for vehicle pickup, but also has the capability to shuttle large quantities of inventory, ensuring proper stock levels at both locations. The new car carrier has been teamed with both a cube van and half ton delivery truck for local deliveries. When putting together the specs for the new fleet, decisions were made to ensure both high-efficiency with minimal environmental impact. The Kenworth features the newest emission safe-guards including urea injection and DPF particle filtration while the smaller cube van and delivery truck will both be run on recycled fuel that has been run through a filtration plant.
Hotch's Auto Parts hopes to be able to increase both the efficiency and productivity of Toronto area shops with the increased availability of Green Recycled Parts.